The very first Paper Pumpkin kit.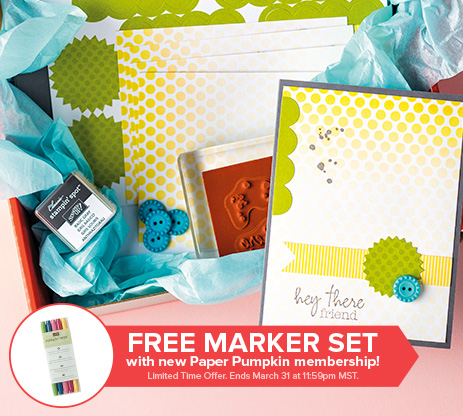 Paper Pumpkin

says…
"Just think . . . I come to your door each month (a fully decked-out creativity carriage).  I'll help you escape your life with some paper fun . (I'm kinda like your paper fairy godmother—without white hair!)  You'll love what you find on the inside: All the stamps, ink, paper, and accessories to create pinable (post on Pinterest) projects.  Stuff like cards, 3-D items, and more!"
$19.95 / month
Q: What is the Welcome Kit?
A: The Welcome Kit is the very first Paper Pumpkin you will receive in your first month of membership.  (Shown in the picture above.)  This initial kit is the same for everyone, regardless of which month you subscribe.  If you are a new member, we'll send the Welcome Kit to you for your first month.  Bonus!  The Welcome Kit includes a free gift — a clear acrylic block!
Q: What is the free gift?
A: You will receive a special free gift with your Welcome Kit — a clear-mount acrylic block.  You will need your clear block each month to use the stamps that will come with your Paper Pumpkin.  Simply press the stamp firmly onto the clear block and the stamp will adhere to the block.  Ink up your stamp, and you are ready to go!  When you are finished stamping, just peel the stamp off the block.
The Paper Pumpkin kits are only available through the subscription process.  They will not be sold separately or through future catalogs.  At this time, Stampin' Up! will not have past Paper Pumpkin kits available for sale.  Most of the items in the Paper Pumpkin kits will be brand new products, not available in any catalog.  [Some standard items, such as ink or envelopes, will be from current catalogs.]
If you have any questions, send me an email at StampWizard@hotmail.com or post a comment and I will answer as quickly as possible.
Happy stampin' !    -Sandra-